We love the Lord our God and His Son Jesus Christ. We are a family oriented church and we meet weekly to share our challenges, hopes, aspirations, and many more together.
We believe that the cornerstone of our faith is being able to have a community around you that can support you as you grow in your faith. This is what our Christian family brings to church each and every week.
We are a loving community whose primary goal is coming together weekly to learn how we can love and serve one another better through the teachings of our Lord and Saviour, Jesus Christ of Nazareth, as we study the Holy Bible together.
Our Mission
Our mission at Zoe Parish aligns with the global mission of our Parent – Church; and these include but not limited to the following:
To make heaven
To take as many people with us
To have a member of RCCG in every family of all nations
To accomplish No. 1 above, holiness will be our lifestyle
To accomplish No. 2 and 3 above, we will plant churches within five minutes walking distance in every city and town of developing countries and within five minutes driving distance in every city and town of developed countries
As a parish, we strive to meet these mission points by coming together at least twice a week to worship God, study the Holy Bible, and to learn to live out God's will, as a lifestyle on a daily basis by depending on God's guidance through His Holy Spirit.
We aspire to build up men and women of integrity, who appreciate their God-given peculiar giftings with a view to using such giftings to positively impart and transform their various communities.
BIO OF PASTOR EDMUND ABEKHE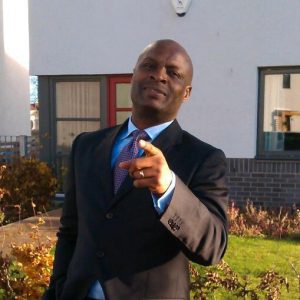 Pastor Edmund is a Pastor; a Missionary and Church Planter. He is a graduate of English and Literary Studies. After his first degree, he went into business for himself. A very successful Entrepreneur, he gave up a thriving business in Spain when he was called by God into full-time ministry in 2005.
Prior to his call, Edmund was the Executive Church Administrator for The Redeemed Christian Church of God in Spain with headquarters then in Malaga. He was in this position from late 2003 until 2006 when he relocated with his family to Edinburgh. Upon arrival in Edinburgh, he was instrumental to the planting of the Potter's House Parish in the south of Edinburgh in 2007.
He spent two years at the Faith Mission Bible College where he obtained a diploma in Theology and Expository Preaching. He has also taken several theological/missionary training over the last couple of years. During his time at the College, Pastor Edmund was involved in several missionary endeavours organised by the College. These several endeavours took him across several cities and villages in Scotland teaching and proclaiming the Word of God in several of their churches.
In 2009 a Scottish congregation invited Pastor Edmund to lead the work in church. He was with this congregation until late 2011 when he returned to his parent parish (The Potter's House, Edinburgh.) In 2012 he became the parish Pastor of Potter's House. Under his leadership, the church grew and became very involved in the community. It was also under his leadership that the Potter's House secured present permanent accommodation in Niddrie.
In June 2014, Pastor Edmund and his family moved to Glasgow and joined the team of ministers at The Redeemed Christian Church of God Beautiful Gate Parish, Glasgow. They were in Beautiful Gate until September 2015 when they were transferred to the city of Paisley (not far from Glasgow International Airport) to help reorganise the parish in Paisley.
In the course of the reorganisation, the leadership of the Redeemed Christian Church of God in Scotland decided he should continue the work in Paisley as the new Parish Pastor.
Noteworthy of mention here is the fact that while in Glasgow, Pastor Edmund took out time to train as a Missional Leader; a Chef, and successfully obtained an MSc Degree in Logistics and Supply Chain from University of the West of Scotland.
He is currently studying for another degree in in Theology and Pastoral Studies.
Pastor Edmund is an avid reader, with an appetite to learn something new and a strong believer in the preservation of family and positive social values in all communities. His greatest desire is to see families in every community surrendering to the Lordship of Jesus Christ as he is of the view that the true health of every nation starts from a healthy family structure as ordained by God Almighty.
He is married to Pastor Ethelrida and they have a Son.
Quote from Pastor Edmund:
"Good deeds alone will not get you any eternal reward; however, good deeds that have God at the very centre will guarantee you eternal reward in this world and in the world to come"